10 Deep-Sea Creatures You Wouldn't Believe Exist
Reading time: 8 minutes
Despite the increasing rate of species discovery to date less than 5% of the oceans have been explored and only recently have we been able to explore the true ocean depths (see article). Here are 10 of the strangest deep-sea creatures discovered so far. You have got to love number 5.
---
1) Goblin Shark (Mitsukurina owstoni) 

Discovery channel / Via WIRED / By Nurie Mohamed
Yep that's right. This little fella can detach his jaw in order to catch a tasty mouthful. Sharks are able to protrude their mouths in such a way because, rather than being fused to the skull, their jaws are suspended by ligaments and cartilage – goblin sharks, which can grow up to 4 meters in length, take this to the extreme. A bite from a goblin shark is lightning fast giving prey little time to react  and creating a vacuum to suck in the unlucky target. The needle-like teeth are used to trap, not slice the goblin shark's prey which ranges from small crustaceans to large-bodied squid and fish. However, it's not only the jaw which is highly peculiar; goblin sharks have a reduced density of muscles and connective tissues when compared to other sharks. Although this means they are sluggish in nature it allows them to approach neutral buoyancy and need little sustenance to survive – something that comes in very handy when you're over a kilometre below sea level and food is scarce. It is assumed these sharks draw various comparisons to others in the order Lamniformes such as the remarkable sense of smell and disposition to follow their noses.
Watch rare footage of a goblin shark venturing out of the depths here (skip to 2.37 to watch the goblin shark get stuck on a divers arm after a cheeky exploratory nibble)
---
 2) The Blobfish (Psychrolutes marcidus)
NORFANZ field trip 2003 / Via http://kerrynparkinson.weebly.com/ / By Kerryn Parkinson
If you pop down to 1 km below sea level you will find this friendly gelatinous face lingering in the dark. Psychrolutes marcidus are a deep water fish that live off the coast of Australia. They live at depths of  between 600 and 1200 meters where the pressure is up to 120 times greater than it is at the surface. In order to survive in these extreme conditions the blob fish has developed some unusual features. Most fish have something called a swim bladder – these are sacs of air in their body that help fish to move around and stay buoyant. Deep sea fish like the blob fish don't have swim bladders as, under the extreme pressure in the deep, the gass-filled cavities would collapse. To combat the stresses of the deep sea waters you must fight fire with fire and use water as your structural support. Thus the blob fish have jelly-like flesh and reduced skeletal structure.
The gelatinous blob (as seen in the picture above) is a result of a substantial pressure change when the blobfish is brought up from the deep. The blob fish's weak muscles and lack of skeletal structure means it cannot maintain its form without extreme external pressure. As a result of these 'unusual looks' a public vote in September 2013 run by the Ugly Animal Preservation Society found the blob fish to be the world's ugliest animal. Poor little guy.
See what a blobfish would look like in it's natural habitat here.
Buy the Ugly Animal Preservation Society's book The Ugly Animals: We Can't All be Pandas from Amazon UK (just £7 on kindle) or Amazon US ($14.60 for the paperback edition)
---
3) Giant Isopods (Bathynomus sp.)
Creative Commons / Via commons.wikimedia.org / By NOAA
The genus Bathynomus is made up of almost 20 species of marine crustaceans which live on the seabed between 150 and 2000 meters below sea level. Normally giant isopods are 20-30 centimetres  (~8-12 inches) in length however one specimen pulled up by a Remotely Operated underwater Vehicle or ROV in 2010 measured 2.5 feet in length! Giant isopods are scavengers which means they feed on decaying animals falling from above and occasionally on slow-moving live animals such as sponges using their f0ur (yes four) sets of jaws. However, it is when food is scarce that isopods are really in their element; one giant isopod in Japan survived in captivity for five years without eating a single bite.
Watch an attempt to try and feed a live giant isopod here. What a tease.
---
4) Sea Pig (Scotoplanes sp.)
Neptune Canada / Via Flikr / By Ocean Networks Canada
Scotoplanes are a type of sea cucumber which live on or just underneath the surface of the abyssal plain. They are in the same phylum as starfish and sea urchins (Ecinoderms) however they are perhaps more immediately comparable to terrestrial slugs. They feed on the organic matter found in the sea floor mud and are found in abundance in the deep sea along with other echinoderms.
---
5) Dumbo Ocotopus (Grimpoteuthis sp.)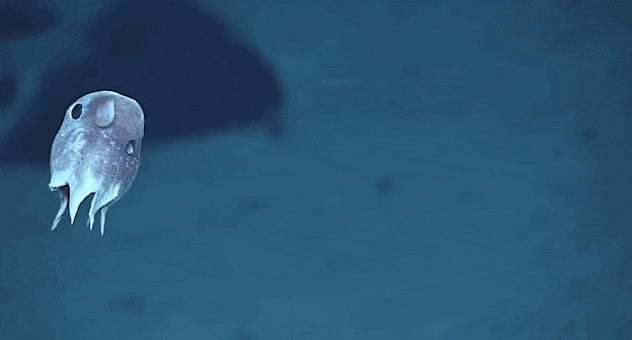 The Dodo / Via thedodo.com / By oceanexplorergov 
The Grimpoteuthis or "Dumbo octopus" is a semi- gelatinous benthic mollusc which can grown up to 20 centimetres. They are found hovering above the ocean floor at depths of 300-400 meters where they scavenge for snail, worms and other benthic life. Their two most notable features are a large ear shaped pair of fins located on their mantle, hence the nickname Dumbo, and their skirt- like webbing between their appendages (which classifies them as a type of umbrella octopus).
Here

is a video of the Dumbo octopus in action at Nautilus Live. And here is a Dumbo octopus involved in some interpretive dancing as you do
Pretty precious eh but now are you craving something even cuter?! Well click here otherwise you'll be spending the rest of your day fighting off the urge to watch endless cat videos on YouTube
---
 6) Hairy-chested Yeti Crab (Kiwa tyleri)
Winipeg Free Press / Via winnipegfreepress.com / By The Canadian Press Files
This deep-sea squat lobster found recently near Easter island is affectionately known as the 'Hoff crab' due to the striking resemblance of its exoskeleton to the chestal area of Baywatch star David Hasselhoff.  The nickname was coined by UK deep-sea scientists aboard the RRS James Cook 2010 voyage of the Southern Atlantic after finding hoards of these strange crustaceans at depths greater than 2000 metres. Unlike the actors illustrious mane the Hoff crab's belly beards seem to be more than just for looks. Sulphur-oxidising bacteria found in the dense ventral setae/bristles have been hypothesised to be a key source of nutrition to the crabs through the fixation of carbon in hydrothermal fluid – in other words these crabs can grow their own food! Hoff crabs have been found to thrive in exteremophilic conditions; they have been found living near hydrothermal vent chimneys at densities in excess of 600 per square metre (see here) enduring temperatures of up to 350 °C.
---
 7) Japanese Spider Crab (Macrocheira kaempferi)
Creative Commons / Via commons.wikimedia.org / By Takashi Hososhima
The Japanese spider crab is largest known species of crab with a leg span up to 15 feet (~4.5 meters) and a potential lifespan of nearly 100 years. Despite its size the giant spider crab is still prey to certain species of octopuses. As well as their protective armoured exoskeletons these spider crabs use their bumpy carapace to blend in with the rocky ocean floor and evade those pesky octopi. The crabs also host sponges and other animals on their shells to improve their camouflage. The spider crabs  are considered a prized delicacy in many parts of Japan however extraction using small trawling nets has caused the populations of crabs to decrease in recent years prompting call for greater protection.
Here's a photo of a Macrocheira kaempferi compared to a human.
---
8) Predatory Tunicate (Megalodicopia hians)
The Blue Planet / Via tumblr.com / By astronomy-to-zoology
The predatory tunicates (sometimes known as ghostfish) live anchored along sea canyon walls and on the seafloor at depths of 200-1000 meters. These tunicates, which look like a cross between a jellyfish and a Venus Flytrap, wait for small animals and zooplankton to drift or swim into their hooded mouths to trap them only opening up again when the meal has been processed.
You love a bit of Atttenborugh right? Well here's the big man describing predatory tunicates.
---
9) Greenland shark (Somniosus microcephalus)
CableTheEconomist / Via imgur.com 
Greenland sharks are the only true sub-Arctic shark and are native the waters of Greenland, Canada, and Iceland. They are found anywhere from the surface to 2200 meters down preferring very cold water (-1°C to 10°C). The Greenland sharks size is comparable to the great white and they are capable of growing to more than 20 feet long and weighing up to 2,500 lbs. They are also one of the slowest swimming sharks in the word with an average cruising speed of 0.3 m/s (0.76 mph), however they are capable of short bursts of speed when needed. Greenland sharks are commonly parasitized by the copepod Ommatokoita elongata. This nasty blighter attaches to the shark's eyeballs and feeds off its corneal tissues rendering the shark partially blind. Thus Greenland sharks must rely almost entirely on other senses such as smell to locate food and manoeuvre past obstacles. The flesh of Greenland sharks is poisonous however it can be processed for consumption by firstly burying it in the ground for 6 to 12 weeks, exposing it to several cycles of freezing and thawing, then hanging it to dry for several months and finally cutting it into bite-sized cubes. The end product is known as Hákarl and is an Icelandic delicacy.
See a photo of the eyeball parasites on a Greenland shark here. 
See video of a rare encounter with a Greenland shark here.
Here

is a photo of a Greenland shark that has been caught by an Icelandic fishing vessel.
To watch a video about Hákarl click here.
---
10) Giant Squid (Architeuthis sp.)

Tumbler / Via discovery.tumblr.com/ / By Discovery
The giant squid is a almost mythological deep-ocean dwelling squid in the family Architeuthidae. Due to a theory known as deep-sea gigantism these squid can reach incredible sizes. Recent estimates suggest their maximum size is 13 m (43 ft) for females and 10 m (33 ft) for males measured from the posterior fins to the tentacles tips meaning they are second only to the Colossal (Mesonychoteuthis hamiltoni, watch out for a article on this monster soon!) in terms of size. The first images of a live giant squid were taken during a Japanese-lead research expedition in 2004. The first film footage of a live adult in its natural habitat was  captured off the coast of Chichi-jima in July 2012.
To watch footage of a live giant squid click here!
---
---
Disclaimer – As an Amazon associate I will receive a small (~5%) commission on any purchases made via the Blobfish Ugly Animal Society link and Creatures of the Deep link. Any profits will be invested back into the website 🙂 Thanks for reading
Featured image credit:  Creative Commons / Via commons.wikimedia.org / By Rachel Cauuwe